Window Treatments
Pioneer Carpet One Floor & Home in Twin Falls is your source for home design. We not only carry an extensive collection of flooring, but we also offer a vast number of window treatments for your home. Our selection includes traditional window fashions, as well as technologically advanced treatments that are safe for pets and children. Whatever your needs, our experts can walk you through the available treatments that would best fit your home.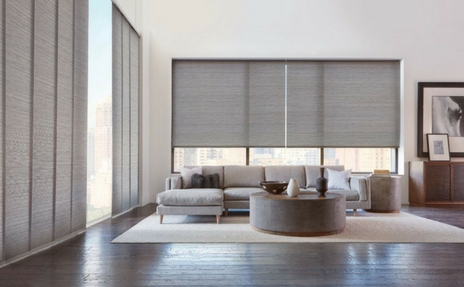 Benefits of Window Treatments
Window treatments have improved tremendously over the years. What would have a pesky window close to the ceiling in years past now has an easy solution. Motorized treatments are available for those extra high windows, allowing you peace-of-mind. Similarly, with the advent of the smartphone, window treatments are now capable of connecting to an application and being controlled by your phone. Some treatments can be set to a timer based on where you live, as your smartphone takes data from the internet and tells your treatments to rise and fall with the sunrise and sunset. They can also be controlled remotely from your phone if you forget to lower them after leaving your home. Technology has increased the available options, allowing you to have privacy and a remote control at your fingertips at all times.
Window treatments also provide floors protection from the harmful effects of the sun. Keep your floor from fading with window treatments that shade them from UV rays. Window treatments can also bring balance to your home design, by offering light control and privacy control. Whether you want more or less light, window fashions make getting the perfect amount of light easy.
Types of Window Treatments
There are both hard and soft window treatments available today. Hard window treatments are made of materials like wood, metal, or plastic, and are usually easier to clean than soft treatments. Soft window treatments are made from material and come in honeycomb, roman, and cellular shades.
At Pioneer Carpet One Floor & Home in Twin Falls, we are proud to provide window treatments to the area of Southern Idaho.
Window Treatment Options
Hunter Douglas

As your local Hunter Douglas dealer, we are happy to combine functionality with fashion. We specialize in providing you products that you love. Find out why you'll love Hunter Douglas window treatments.